There are tons of hints and hacks for things to take in a prom emergency kit—everything from duct tape to an extra pair of shoes in case yours completley fall apart. But what do you really need in that pretty little purse that you took weeks to find? 12 Little Things. That's it! Sure, get together with your BFFs and create a group emergency kit with the heavy emergency artillery. But for now, gather these 12 tiny items to have with you all the time—and have fun!
Mandatory Must-Have's:
Mini Perfume Spritz

Bobby Pins

Mini Hairspray

Comb

Phone

Facial Blotting Papers

Cash & Credit Card

Compact

Lipstick

Safety Pins

Gum/Mints

Driver's License or School I.D. (maybe both)
Add these "just in case":
Alleve/Aspirin/Motrin

Tampon or Pad (get the pretty wrapped kind)

Tissues

Bandaids
If you have room add:
Sewing Kit

Digital Camera

Deodorant

Eyeliner

Mini Mascara
Want to keep your flat things under wraps?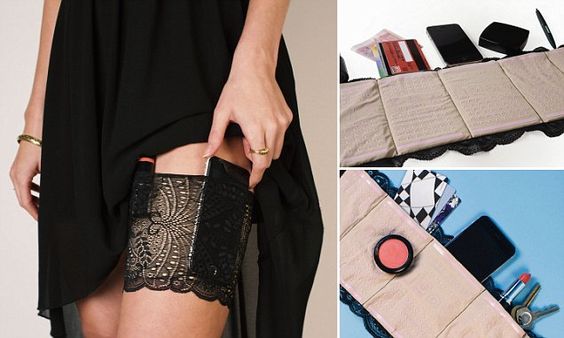 For the crucial stuff like ID, cash and credit card, get a garter purse. They go by several different names—garter purse, thigh pure, holster—but it's all the same idea.
You can get one from Amazon or eBay, or yu can get one that holds just about everything like a Sassy Stash.
Read about it here: http://www.dailymail.co.uk/femail/article-3184859/Time-ditch-clutch-New-lacy-garter-dubbed-Sassy-Stash-allows-women-carry-phone-purse-THIGH.html
And in case you're not convinced that you should carry cash (and not just a credit card) check this out:  Girl Talk 10 Reasons to Carry Cash on Prom Night