Metallic dress fabrics never go out of style & our Top Trends 2023 Gold & Rose Gold Prom Dresses prove it.
Gold is a classic, with Rose gold coming in a close second. Both blend with other metallics like silver, gold & bronze.
Our designers decided to go back to the perfect basics to create this year's collection:
Gold & Rose Gold A-Line Ball Gown Prom Dresses
Gold & Rose Gold Fit & Flare Prom Dresses
Metallic Champagne Gowns
You'll also find mixed metallic combinations:
Rose Gold & Silver Prom Dresses
Gold with Cream Prom Gowns
Silver & Gold Prom Dress Styles
When you choose your Prom Dress from Sparkle Prom's 2020 Collection …
You know that your gown will be created with top-quality fabrics, high-fashion design, and high-end construction. We guarantee you'll love their affordable prices. Best of all, most of these dresses are available for rush delivery at no extra charge!
Gold & Rose Gold Prom Dresses: A-Line Ball Gowns
Sparkle Prom Style #72205: A-line Prom Dress with Plunging V-Neckline, Open Back with Strap Detail & Beaded Lace Applique Bodice. Full Skirt has Hidden Pockets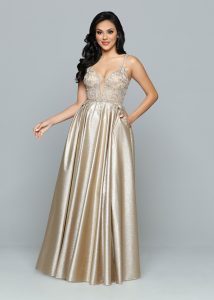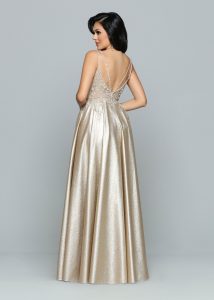 Available in: Gold, Turquoise
To see more details Click HERE Sparkle Prom Style #72205
Sparkle Prom Style #72167: A-Line Ball Gown Prom Dress with Plunging V-Neckline, Cut Out Back Bodice over Open Back & Two-Tone Skirt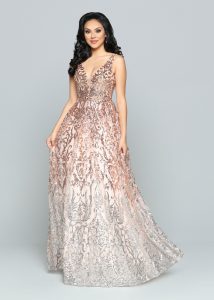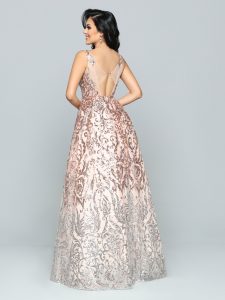 Available in: Rose Gold/Silver
To see more details Click HERE Sparkle Prom Style #72167
Sparkle Prom Style #72192: A-Line Sheath Prom Dress with V-Neckline, Cut Out Bodice Back with Lace-up Ties & Ombre Skirt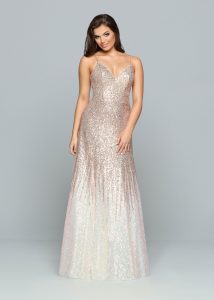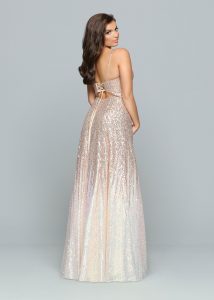 Available in: Gold/Cream
To see more details Click HERE Sparkle Prom Style #72192
Gold & Rose Gold Prom Dresses: Fit & Flare
Sparkle Prom Style #72166: Fit & Flare Sheath Prom Dress with Plunging V-Neckline, Fitted Cutout Bodice with Diagonal Beading & Two-Tone Sequin Skirt with Sweep Train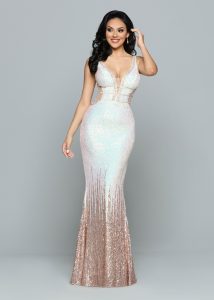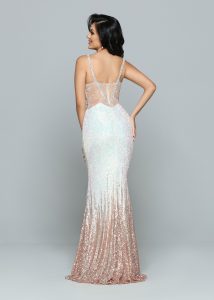 Available in: Black/Gold, Cream/Gold
To see more details Click HERE Sparkle Prom Style #72166
Sparkle Prom Style #72186: Fit & Flare Mermaid Style Prom Dress with V-Neckline, Open Back with Strap Detail & Mermaid Style Skirt with Sweep Train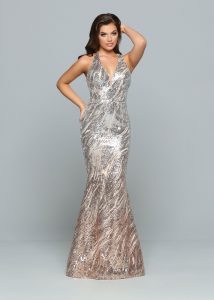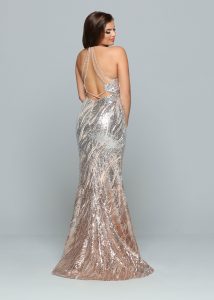 Available in: Silver/Gold, Silver/Teal
To see more details Click HERE Sparkle Prom Style #72186
Sparkle Prom Style #72208: Fit & Flare Sheath Prom Dress with Modest V-Neckline, Open Back with Wide Beaded Strap Detail & Skirt with Sweep Train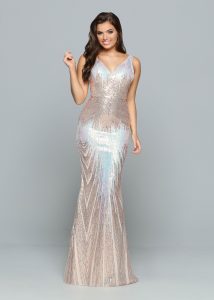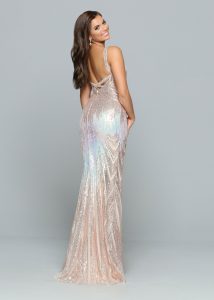 Available in: Champagne/Multi, Red/Multi
To see more details Click HERE Sparkle Prom Style #72208
We have loads of good info, everything from fashion to finances to what to do with your dress when Prom is over, so keep an eye on our blog and dresses! Click HERE or on the image below: